Rar Rar. This is Qem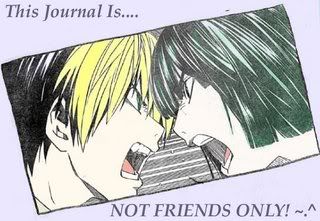 Hi! I'm Qem, 21 years old, Australia, I read/watch fanfic, fan art, amv's and canon for more fandoms then I care to count, though I suppose Inuyasha, Prince of Tennis, Hikaru no Go would be major and oofuri, mx0, eyeshield and xxxholic would be current.
This is a
fandom
random journal, though I might post memes and random things of interest.
I mostly use this journal for the friendslist and communities here, as well as little updates on my life.
Feel free to drop links my way through here.